"Recommendations are one way for people to discover who we are, what we do, and how good we are at our work" ~Teddy Burriss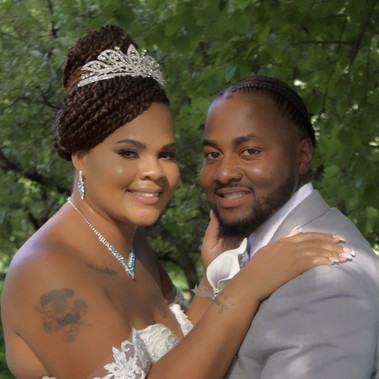 Elizabeth stated...
I want to thank Shaleira for doing a wonderful job on my wedding day. She flew in a the day before and created my look. She made my day so special and my makeup was to die for, the groom even cried. Shaleira is very compassionate when it comes to her creating a look for brides. I can't thank her enough.
- Columbus, Ohio
Renea stated...
Shaleira is such a great artist. I would hire her for every event! She made my wedding a dream come true and has such a great personality. Love you girl! Thank you so so much!
- Long Island, NY
Madeka stated...
I am SO thankful that I found and booked Shaleira! She is top of the line. I was really concerned about finding a vendor who has experience working on brides of color. Looking through most of the makeup vendors on Wedding Wire in my area, they had zero photos with brides of color which was extremely frustrating. I found Shaleira through another site and booked my trial with her for my bridal shower. The trial confirmed for me that I absolutely needed Shaleira to do my makeup for my big day. Leading up to the wedding, Shaleira was extremely supportive, checking in to see how I was doing and if I needed anything. She also gave me tips and a regimen for my skin leading up to the wedding. On the wedding day, she absolutely nailed the wedding look. She did two looks, one for the ceremony and one for the reception. Throughout the day, Shaleira jumped in and helped with my hair, birdcage veil, and really anything else that was needed (including a facial that morning). I don't know what I would've done without her. She also did my mother's makeup which was stunning. I would recommend her to everyone because she was that good. Also, she's super friendly, funny, and professional. BOOK HER!
- Poughkeepise, NY
Stephaine stated...
Professional, punctual , and positive. 3 P's this lovely lady brought to my wedding journey. She was very knowledgeable with skin and makeup and knew exactly what to do. She listened, took notes and executed a flawless face on my big day. My biggest concern was not looking like I had a ton of makeup on, as I do not wear makeup regularly. She understood this and worked to enhance my natural beauty. Also, her positive and genuine attitude was pleasurable and important to the process. I must admit she is bit pricier than I expected but as I learned, you pay for what you get. She is the total package for your makeup needs without hesitation. Thank you again!
Publication: The Knot Magazine pages 214-215
- Brooklyn, NY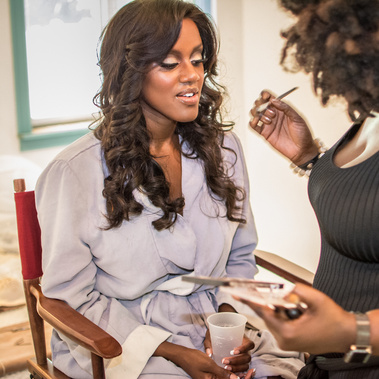 Candi stated..
"From the moment I saw Shaleira's work, I knew I wanted to book with her. After my initial trial session, the decision was made! She was more than a makeup artist -after planning a large wedding for 180+guests in 4 months, Shaleira was a calming presence throughout the entire process. Her personality is warm, collected and is exactly the kind of person any bride would want on her team. I loved my final look and she provided an amazing experience not only the day of my wedding, but also leading up to the ceremony and reception day. I can't wait to book her again the next time I (or someone I know) is in need of a talented makeup artist!"
- Connecticut
Tricia and Stephanie said...

"Shaleira is a compassionate professional. She is meticulous and works hard to make you happy. We were lucky to have such a skilled artist. "
Janina said....

Thank you so much for your professionalism and your talent. From the very beginning you have been a pleasure to work with. I'm so happy to have you with me on the special day. You are destined for success. Keep chasing your dreams!
Nadine said....

You are very talented makeup artist. I am so glad that you were here to help make my day special and stress free. I know my favorite girls appreciate you too. Thank you again Shaleira.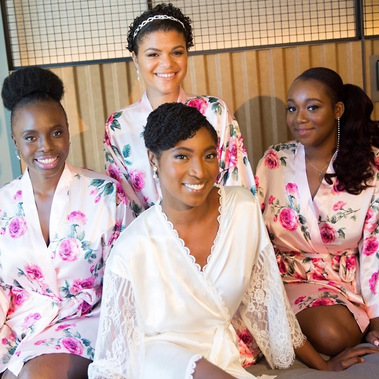 Selena stated...
I had the pleasure of working with Shaleira Smith in November of 2016 for my NYC wedding. I am a pretty tough critic, so, it means a lot for me to say when I am impressed with someone's services. Shaleira came recommended from two trusted sources, my wedding planner and a girlfriend of mine who also used her services. Shaleira came to my mother's home in Brooklyn and did my trial run a few weeks before the wedding. My first impression was that she was warm, professional and paid careful attention to her own make up. Shaleira arrived EARLY (the first win) and she worked around all of my family that was present during the trial. I felt very comfortable giving her feedback about what I liked and did not like about my makeup and she did a great job listening to my concerns. On the wedding day she was prompt and worked easily with my 2 bridesmaids, mother and mother in law. EVERYONE was pleased with their make-up, the services that she provided and her attention to detail. I chose the maid of make-up service and I think it was worth it because I tend to get oily in my T-zone and did not want to look shiny in my pictures. I had my make-up refreshed twice, once after the first look with my fiance and then another time after the ceremony. She also left me with lip gloss for touch ups later in the evening. I received tons of compliments on my make-up that evening because Shaleira did an excellent job. I am eager to recommend her services to any other friends or family that I know looking for a make-up artist.
Eva said...

Best ever hands down. You are amazing and did an amazing job. Thank you so much for being there from my engagement shoot and my wedding. Amazing.
Marlena said...

I can't thank you enough for the beautiful job you did on me and my bridal party for the wedding. Thank you again!!
Alison said...
"Shaleira was amazing! My mom and I loved our makeup for my wedding! She was able to look at a few pictures and come up with two looks for my special day. Shaleira listened to what we wanted and knew what would photograph best! I would highly recommend her services!!"
Stephaine said...
Loved Shaleira's work. She came to me on my wedding day instead of me having to go somewhere. This made it truly a relaxing experience for me. She also did the makeup for my bridesmaids, and everyone had their own makeup customization. Shaleira came to my home a week or so before the wedding to do a trial on myself and my bridesmaids. We had a lot of fun and she was very professional during both the trial and the wedding. I would absolutely recommend her. She has a large palette of colors to work with and was able to match my dress perfectly. I had a blue sash around my waist.